For Children
Marion understands how to fire children's imaginations! With a background in storytelling and education, she will bring your venue or school a day of sparkling fun that stimulates learning across the curriculum. In addition to her newest shows, Stories in the Dark and Once Upon a Number, choose one of these sessions, or ask for stories designed to fit in with your project.
Legends of the Land
A show tailor-made for your local area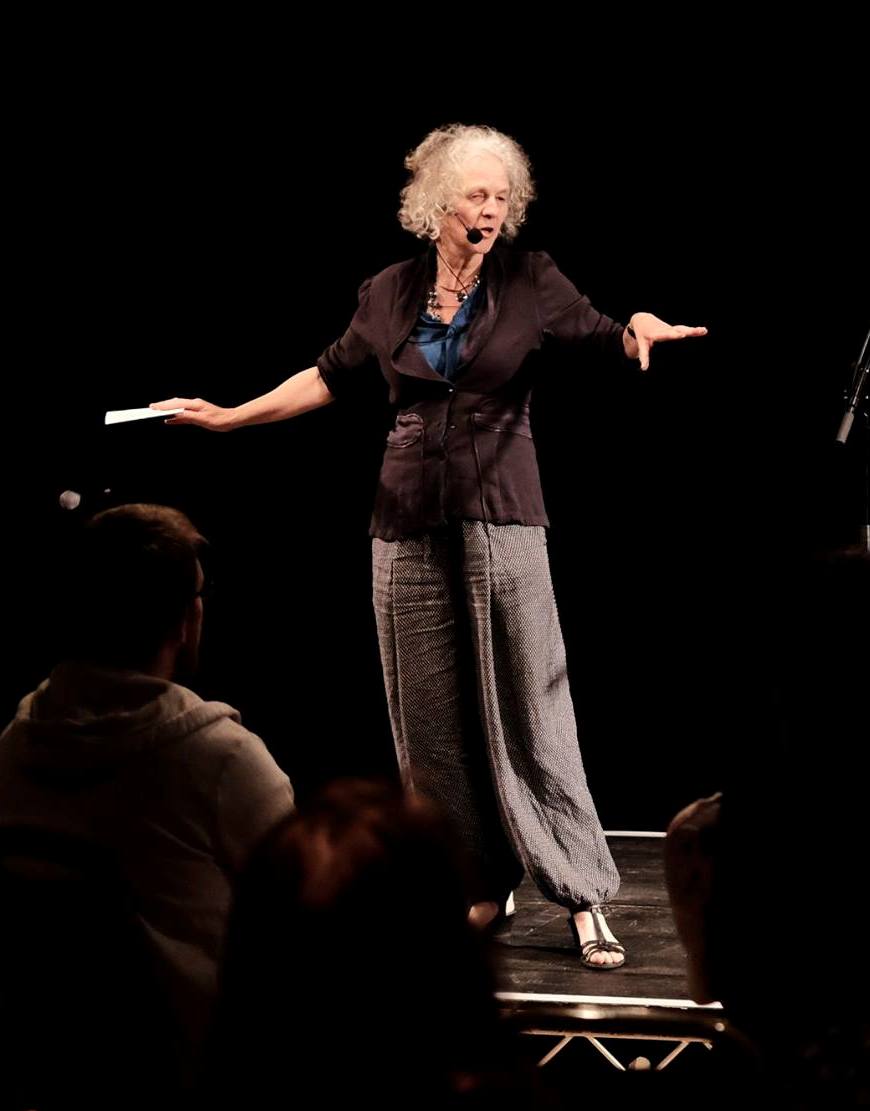 As Bard of Cambridge 2016-17, Marion has been finding out about the legends and true stories that have shaped her city. This session, combining true stories, local legends, and Viking myths, can be adapted for all ages, to help children find out about the legends that shaped their landscape and culture, and inspire them to create and retell their own local legend: the giant asleep under the hill, or the creature in the local pond.
Myths and Monsters
Listen to myths and stories of magical beasts from around the world, before developing your own stories to explain how the moon turned silver or why it's dangerous to go into the forest. Or make your own creation myth, inspired by a life-size puppet and a story from the beginning of time.
Making War, Making Peace
The Army Coat Stories from World War Two, based round an army great coat. Find out about rationing, gas masks, and the day the streets of Histon ran red with strawberry jam. This show meets learning objectives from the history curriculum for Key Stage 2 as well as exploring issues of war, friendship, and discovering the past.
TheTaxi Driver. Cambridge 1916. True stories of the people who lived through the first world war. A session to get students see beyond the bare facts and empathise with the people behind the stories.
Story rocks
Developed in conjunction with the Sedgwick Museum in Cambridge, these stories introduce children to fossils and stones from the ice age, using objects from the museum's handling collection.
Meet the remarkable fossil collector Mary Anning in She sells sea shells
Travel with Mr Darwin the Explorer to find unheard of treasure, or meet the doodled creations of his children, Colonel Carrot and friends.
Hear the Tall stories of the Fen Tiger or meet some cold cavemen and hot mammoths in Mammoth hair and sabre teeth.
The story mat
Stories from around the world unfold in the enchanted world of the story mat. Children will voyage across the Bridge of One Hair, over mountains, under sea, and give voice to their own stories.
"wonderful attention-grabbing props"
"the children were enthralled."
Happy listeners have said: "Thank you for bringing fun and creativity into the classroom"
"An inspirational visit" "So appropriate, versatile, and creative"
"Can you come back when my sister is in this class?