Storytelling Experience |
What People Say
Marion:
Since 2003 I have worked in schools, libraries, shops, museums and open spaces in and around Cambridgeshire. As a key member of local group Cambridge Storytellers I have been involved in organizing two storytelling festivals and a National Gathering of Storytellers.
I contribute articles on storytelling in the early years to the magazine Early Years Educator, and my book, Developing Early Maths through Story is published by PPS Books. Here's what I've got up to recently:
2016-17 Arts Council funding to develop my early years show, Stories in the Dark, premiered at Beyond the Border Storytelling Festival, and toured to libraries, schools, and venues including the Cambridge Junction and Reading Festival of the Dark
2016 Elected 'Bard of Cambridge'
2013-16 Toured Stories in the Dark, an early years performance in a specially commissioned light-proof tent.
2015 Won the title 'Storytelling Skald of Suffolk' at the Suffolk Eisteddfod.
2015 'The Forest of Dreams', collaborative story and art project for the charity SENSE, working with deaf/blind children and their families, (read my blog here) .
2008-17 Performing at festivals including Womad, Ely and Cambridge Folk Festivals and the East Anglian Storytelling Festival.
Regularly present early years storytelling sessions at Cambridge museums: snowy stories at the Scott Polar Museum, dinosaur stories at the Sedgwick Museum, and at the Classical Archaeology Museum an interactive version of the Odyssey.
Regional storyteller/trainer for Bag Books, multi-sensory stories for children with learning disabilities, 2010-17: worked with carers to help them deliver multi-sensory story sessions.
2014-17 Sharing Stories, a project in my local library training volunteers to tell stories at family sessions.
'Public Engagement: Developing a Research Narrative' workshop for University of Cambridge, regular sessions between 2012-2017
Appearances at the Texas storytelling Festival, and the LANES 'Sharing the Fire' Conference, New York State, March 2012
Training includes:
'Walking the Wildwoods' with Shonaleigh Cumbers, School of Storytelling, 2016-present
Intensive storytelling course with Michael Harvey, Bleddfa Arts Centre, 2015
Advanced Storytelling Course with Ben Haggarty, February 2007 and March 2009
MEd degree, Critical Perspectives on Children's Literature, Faculty of Education, Cambridge, 2005-7
---
What People Say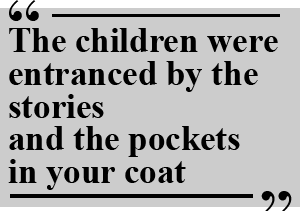 'Are those stories real?
Your pockets are full of surprises!
You tell better stories than my nanna.

I want to go on listening to stories for EVER.
A professional and well-planned day.
My cheek muscles hurt from so much laughing.
You've added an excellent flavor to our New England storytelling stew.
Thank you for bringing fun and creativity into the classroom.'